The Stevens school no longer exists, but was located on Route 191 on or near Woodruff Hill. The first East Side school still exists on the property owned by John Olsen; however it is now used as storage shed. The Larrabee School no longer exists and was demolished in 2012.
Fort O'Brien School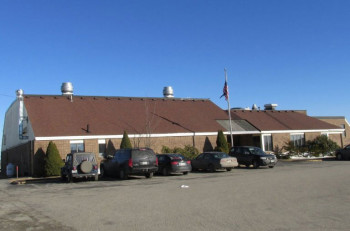 The first Fort O'Brien School was built in 1963, and on March 24, 1978 at 3:00 a.m. the fire alarm sounded and the school was on fire. The school burned, leaving no place for the students to attend school. The Air Force Base in Bucks Harbor offered the Town their space for the schoolchildren and students in K,1,2,3 were housed at the Quonset hut while the children in grades 4-8 were housed in the NCO Club's Bar. Superintendent, Ivan Corey located papers and books while the AFB provided some desks. Two teachers, Barbara Maloy and Marlene Dennison recall how they overcame the interruptions of power and when the lights would flicker or go out while the students were in class, it simply required the teachers to go outside and push the reset button. The students remained at the Base for two years while the new school was being built. In March 1980 the students moved into their new building, proudly called the Fort O'Brien School. The school celebrates fifty years this year and in June 2013 the community will celebrate this milestone..
The Fort O'Brien elementary school has joined AOS 96. Students attend Fort O'Brien School for grades 1 through 8. (Pre-school and kindergarten are also available, but not mandatory.) Machiasport students attend high school at Washington Academy in the neighboring town of East Machias as well as Machias Memorial High School. The Town of Machiasport owns the building in which the Fort O'Brien School is housed; the school building is owned by the Town of Machiasport.